BATTLESTAR IS AWESOME!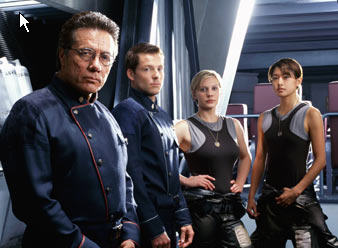 I just love it when I miss something and then am able to catch up in one whirlwind of being glued in from of whatever it is. I did see the first part of the BATTLESTAR GALACTICA mini-series and it was so bad and so boring that I never bothered to see the series.

Then my buddy lends me his box set of SEASON 1 and I skip the mini-series and dive right into the 13 episodes of the series and love it. It's jumping up quickly to be the best sci-fi show. I don't know if I count FIREFLY as sci-fi really, and while I still think FIREFLY's cast and stories were great, with BSG having wrapped part 1 of their second season its going to be tough for Firefly to keep that title because BSG is just great television and great sci-fi.

I cannot recommend this show highly enough. Everything I thought I'd hate about it is perfect. How can anyone replace Lorne Greene and Dirk Benedict - well Edward James Olmos and Katee Sackhoff have more than amazingly pulled it off.

And I just love the classic viper - IMHO the best space ship design ever.