WATCH OUT BABE: KILLER ANIMALS GETS MOVIES!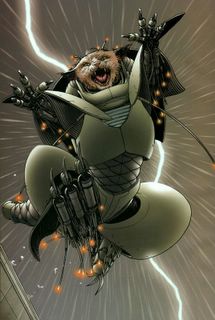 What is this flying robo-cat doing in here? Well if you read Grant Morrsion's WE3 then you know this is "Cat" is a special secret government killing machine. And more importantly its being optioned for a movie. I read the 3 issue mini-series now out in TPB format as I am a big Morrison fan, and I was sold on the pitch of it - animals who are trianed to be assassin escape into the real world - dude, it's just like BABE but instead of a pig its a cat, dog and bunny rabbit - but add in the high-tech kilkler angle and its got high-concept all over it...now you must be wondering how much of that option money will be used to buy Mr. Morrsion some new dope.

And of course Hollywood will cast these famous animal actors as to play We3 no doubt!