STAND ASIDE JOHN WOO!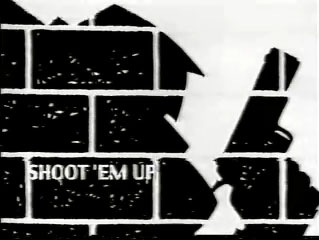 OK if you are any kind of action fan you need to click here to experience SHOOT 'EM UP. If you like the gunplay styling of JOHN WOO then this is the movie for you. While its still in early stages, CLIVE OWEN (Y'know, DWIGHT from SIN CITY) has signed on to be the bad ass mofo hero. So this makes it sound like a slightly classier production in that I would assume JASON STRATHAM (The Transporter) would be the kind of actor tapped to play this kind of no-words-tons-o-bullets type character. Make sure you watch these animatics as it gives a good idea of what the movie will look like - and even looks good as a cartoon. How the hero gets out of a head-to-head car collision is worth taking time out to watch.

I see this as being the super e-viral promo that will flood email boxes around the world.