WIZARD #165: THE VPG REVIEW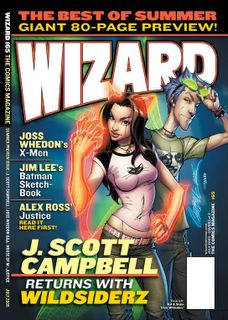 Wizard always reviews comics and other pop culture, so let's review the newest issue of Wizard shall we!

SUPERMAN RETURNS PHOTOS

- I guess they had to run these for the 3 kids that haven't seen them yet because their mom won't let them go online.



DEATH TO THE JLA/HOUSE OF M

- Now after reading these pieces I think I finally understand the storylines and difference between DC and Marvel's big crossover series -

DC's will be good and Marvel's will suck

. This is where Bendis gets his bald head handed to him by young whippersnapper Geoff Johns.



TURNER'S PROTEGES

- It's starting to look baltantly obvious that Wizard is trying to give both of their biggest advertisers exactly 50/50 split in this issue while peppering in stuff like Michael Turner's copycat posse.



FANTASTIC FOUR SET REPORT

- That is funny that Wizard reporter Richard Ho is standing behind that Vancouver personality who used to host those Friday Night Videos...forgot his name, and Ho is looking a bit out of place in that shot.



JIM LEE SKETCHBOOK

- more doodles by Jim Lee - now I really am sick of seeing him draw Batman, I want to see him draw like a 12-issue series of SWAMP THING or ARCHIE.



JOSS WHEDON INTERVIEW

- I really like ASTONISHING X-MEN but I still cannot stand Buffy or Angel. He cops to doing another 12 issues of Astonishing and some kind of mini series based on S.W.O.R.D. - the E.T. version of S.H.I.E.L.D.



ALEX ROSS' JUSTICE #1

- ooh looks sweet, hope it reads better than some of the old school crap he's been spilling out...but it does look like its going to be a hardcore version fo the Superfriends against the Legion of Doom - an

Ultimate-version of CHALLENGE OF THE SUPERFRIENDS!

I'm in!



WILDSIDERZ

- Sounds good to me, looking forward to this bad boy for sure. Can J. Scott Campbell pull it off?

Danger Girl

was sold on his art and T&A action - if you read it again now there is nothing else there so will there be here?



and then it just HITS you in the face:

ROB LIEFELD TEACHES YOU TO DRAW!!!!


Man, I never thought I'd see the day when this happens...amazing,

you can see him teach you to draw Robin here

...oh the humanity!