CONAN BACK TO THE SILVER SCREEN!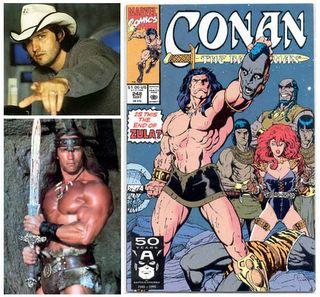 I was disappointed that Robert Rodriguez dropped out of making a movie based on PRINCESS OF MARS because I'd love to see what he did with that, but then again it would have just been a test run for the ROBERT E. HOWARD property CONAN THE BARBARIAN and it looks like he is all signed on board to make it happen!

But the interesting news from SHH is that Arnold may come back?

"If Rodriguez can lure Arnold to his film, it will remain King Conan but will have an ALL NEW script. Otherwise we can expect an ALL NEW Conan... full of cartoon violence to make us laugh. Sigh. Dead forever is the Milius "King Conan" script!"
Of course this is all just wishful thinking as we all the Governator wouldn't really come back to play Conan again - would he?
Read more about it here.