CHARLIZE PACKING HEAT!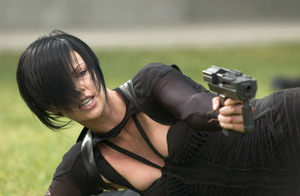 I have absolutely no expectations on this film but here are some new photos of CHARLIZE THERON as AEON FLUX.

If you haven't seen the original MTV animated series you should seek them put or read about it here. The real under-appreciated star is creator PETER CHUNG who should be more famous than he is...he did a piece of the ANIMATRIX and the RIDDICK OVA...so here's an old interview with him to read.