ALL-STAR SUPERMAN PUSHED BACK TO DECEMBER!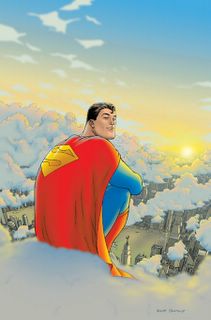 This is big news that might be under the radar of DC's new logo - GRANT MORRISON and FRANK QUIETY's ALL-STAR SUPERMAN is being delayed UNTIL DECEMBER 2005. Frank Miller and Jim Lee's BATMAN will still come out in July to follow up on the Batman Begins film.

In July, DC will unite two legends, Frank Miller (Sin City, Batman: The Dark Knight Returns) and Jim Lee (Batman: Hush, Superman: For Tomorrow) for the new series All-Star Batman & Robin. The ongoing series will pair all-star creative teams with all-star characters to create memorable and dynamic adventures. In October, DC will publish Infinite Crisis, the most eagerly anticipated sequel in the history of comic books, to be written by Geoff Johns and illustrated by Phil Jimenez. And in December, DC will unveil All-Star Superman by Grant Morrison (JLA) and Frank Quitely (X-Men).
We all know Quiety is super-slow, might as well just delay it until 2006 when the new Superman movie comes out. What's the rush?