GEORGE LUCAS: TV STAR!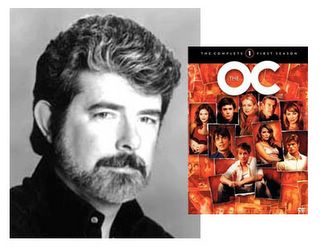 This is better than chocolate and peanut butter...together! GEORGE LUCAS will be guest-starring on THE OC just in time to hype his small film coming out a week later.

Star Wars: Episode III Revenge of the Sith writer/director George Lucas will guest-star as himself on The O.C. on Thursday, May 12 (8:00-9:00 PM ET/PT) on FOX.





During the episode, Summer makes Zach and Seth decide which one of them is going to take her to Harbor High's "The O.Sea" prom. But, after George Lucas expresses interest in Seth's graphic novel, Seth is forced to make the most difficult decision of his life -- take Summer to the prom or have dinner with George Lucas.
Sorry, but does Lucas' marketing people think this movie needs more credibility? Lucky its this thoug, better than having
N'Sync as a group of Jedi
as he wanted to do in Episode 1. I thought The OC was about cool high school kids getting laid in California, how is there so much nerd stuff in the show?