CLASSIC JOES ONLINE ONLY!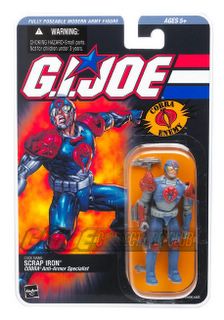 Hasbro is selling direct their GI JOE via a new website. Is this the wave of the future? Companies selling direct? It seems to be working amazingly for Sideshow and others for specialty products!


Hasbro, Inc. (NYSE:HAS - News) is launching a direct to consumer website that will provide online shoppers with the convenience of purchasing toys and games at home, while also providing up-to-date information about the broad portfolio of Hasbro brands.

HasbroToyShop.com, which is scheduled to go live in May, will initially focus on a select number of Hasbro brands, including MY LITTLE PONY, WEEBLES, VIDEONOW and a variety of family games from Milton Bradley and Parker Brothers.

In addition, the G.I. JOE 3 3/4-inch scale makes its return with a variety of new figures and vehicles and will be available on HasbroToyShop.com, along with select online retailers. Attendees at the annual International G.I. Joe Collector's Convention, taking place in Minneapolis from June 24 -26, will be given the first opportunity to order this G.I. Joe product at the Convention only.

Following the Convention, new G.I. JOE product will be available to order on HasbroToyShop.com beginning July 1, with select online retailers having the product offerings available for order shortly after July 1. For more information about product availability, pricing and shipping, consumers can visit HasbroToyShop.com once the site goes live next month.
And adding to the Joe news is that
Devil's Due is selling out of their G.I. Joe comic book series
as it leads up to its cancellation and reboot this summer!
"We know the excitement builds as we head toward the conclusion of the current G.I. JOE series with issue #42 and #43 and the beginning of a new era with

G.I. JOE: AMERICA'S ELITE,"

said Josh Blaylock, President of DDP. "We're ending it with a bang as some characters will not live to see the birth of America's Elite, so fans will not want to miss the final two issues' "Rise of the Red Shadows" storyline. Retailers should make sure they have plenty on hand."