6 MONTHS TILL INFINITE CRISIS!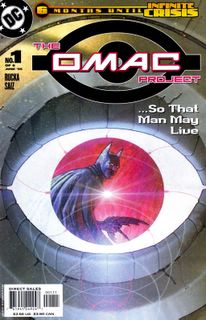 Forgive me for being a bit verbose here, but I just read THE OMAC PROJECT - this is the next chapter in the lead-in to INFINITE CRISIS; DC's big event mini-series sequel to CRISIS ON INFINITE EARTH's which was the biggest thing to ever hit the collective DC universe. The mystery continues and picks up rights after Blue Beetle's brains are left all over the floor.


Spinning from the events of DC COUNTDOWN and IDENTITY CRISIS, a crackerjack thriller by Greg Rucka (ADVENTURES OF SUPERMAN, WONDER WOMAN) comes to life in the brooding, gorgeous art of Jesus Saiz (MANHUNTER) in a 6-issue miniseries featuring covers by Jose Ladrónn that can't be missed!


Every hero and villain in the DCU is under the gaze of an unbelievably powerful spy satellite. It's a technological marvel that answers to only one person — and he's got plans for it that are completely unknown to the superspy organization he controls: Checkmate!





In a world where men can fly and melt metal with their eyes, there's now an army created specifically as an answer to them: a One Man Army Corps. Batman and an old ally are about to learn the chilling truth behind the OMAC Project — but will they work with or against each other?
This isn't
JAC KIRBY's OMAC
- at least not so far...in this issue we see inside
MAXWELL LORD's CHECKMATE
organization and get a hint at what this is all about. It's definitely putting a bit of a scare into the DC universe as not since
Robin got crowbarred by Joker
have I seen such a brutal kill in a DC comic. And it feels like the mystery that unflolded in
IDENTITY CRISIS
the clues are being laid out and the fun every month is for the reader to try and figure out what leads to the
INFINITE CRISI
S. Anyways that is my 2-cents, its great so far and there will definitely be a shift in the status quo in the DC universe by the end of the year.
My only naysay is that it seems Dan Didio really hated
JUSTICE LEAGUE INTERNATIONAL

(one of the funniest superhero comics ever!)
- his working with the writers has the once goofy Maxwell Lord as this super-villain mastermind and they killed Blue Beetle and kind of made Booster Gold a regular guy...like they are all trying to correct that period of DC's history which I don't necessarily agree with, especially
since Blue Beetle and the Comedy JL are doing a stint in JUSTICE LEAGUE CLASSIFIED right now (where they are serving hamburgers to the legions of Hell!)
while this Infinite Crisis is happening! Seems strange but following the adventure is the fun part!
If you're lost or want to get the Cole's Notes to the whole thing click here!