WHO ARE YOU?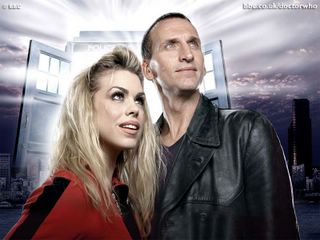 Never saw any of the originals. Never had any interest in it but seeing the first episode of the new DOCTOR WHO I am thinking not bad. Its shot on video with cheesy effects but it has a nice sci-fi basing that will appeal to comicgeeks like myself.

The Doctor I remember seeing was that dude in the trenchcoat with afro - this guy looks more like Ralph Fiennes and the girl looks kind of slutty so I'd say it was a perfect match...lets see where it goes from here.

Yes I BT'd this one too a few weeks ago and it looks like they caught the poor canuck who let it out - probably a good idea since it generated so much online buzz - too bad they fired him for such innovative thinking.

And being a newbe, I'm not sure what a DALEK is but apparently they are real and threatening the UK government - better PR for a TV series I have not seen in awhile!