TRU CALLING RETURNS FOR S2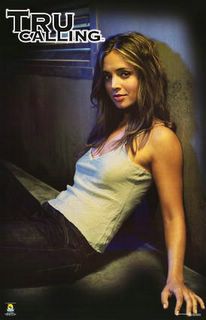 Some people saw the first handful of Tru Calling episodes and banished it as crap TV - I was one of them! But I came back when they brought in Jason Priestly's "Jack" character the show took off like wildfire. Two sides - one trying to save lives and one trying to make sure they stay dead reminds me of the best comic books with the opposite player - kind of like that 80's Batman story "The Player from the Other Side" with art by Micheal Golden - a complete reverse Batman takes lives while Bats saves them.

So give season 2 a shot - 2-hour premiere on March 31st on FOX...unfortunately it has already been cancelled - but you can at least get a bit of the story and go and get the DVD's for Season 1...why am I talking like I've already seen it? I have...it seems Australia has already broadcast them and they have been released via BT...and I have to say these episodes are really great fun so tune in - and if not for me....then for the hottie star of the show!