FIST OF KHONSHU GETS ULTIMATIZED!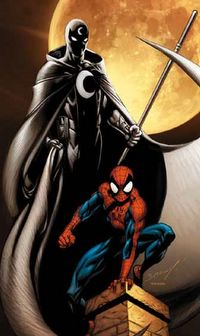 We all remember MOON KNIGHT at his best in the 80's when Bill "Hard to Pronounce Last Name"Sienkiewicz drew him - well lordy look at this - ol' Moon Knight gets revamped in an upcoming serial in ULTIMATE SPIDER-MAN #79-84.

This looks to be the right move with this character as he's had several chances at new comic glory that just never took off for him (like that whacked hard-core gold-jewelry take on him) if the character is busted ship him off to Brian Bendis and let him have a go at him.